BMW 8 Series Wrap`s Introduction
Jul 15, 2023
|
Wrap By Vehicle
|
0
|
54
|
0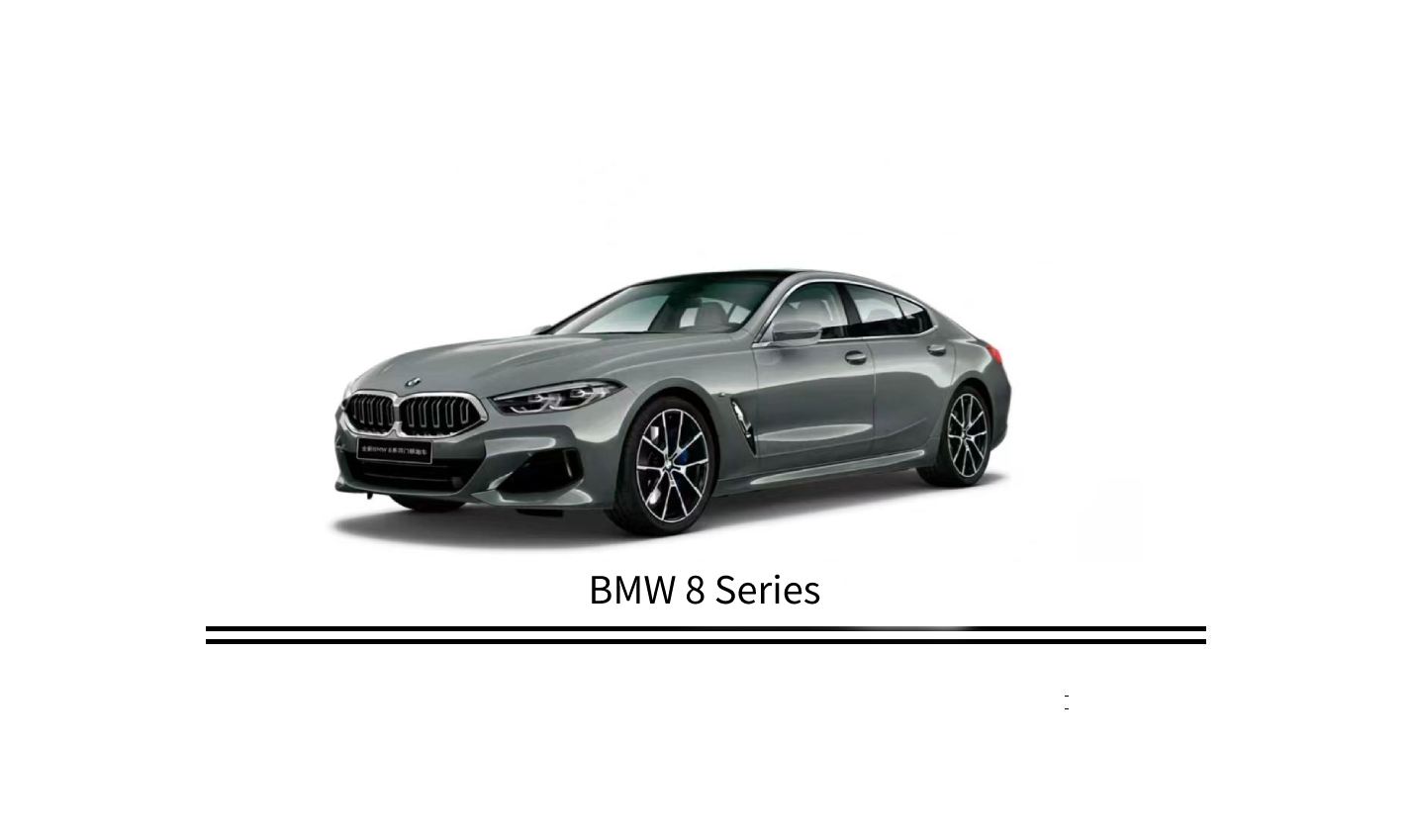 The BMW 8 Series is divided into a two door coupe and a four door coupe, each with its own unique features. Taking the BMW M8 as an example, the BMW M8 is a high-performance luxury sports car under BMW, which combines cutting-edge engineering technology of the BMW M model with the luxury brand style. After years of accumulation, BMW's new generation of 8-series strongly returns to the M8, standing at the top of the family's performance model, and both performance and luxury are well explained in it.
The BMW M8 continues the styling style of the all-new 8-series, with dual kidney air intake grilles and fully laser headlights all present. The design of the BMW M8 double door Coupe reflects the integration of sports characteristics and luxury texture. It uses unique M exclusive design elements such as dual kidney type air intake grille and sports exhaust system with high gloss chrome plating decoration to create a unique appearance. In addition, it is equipped with a large air intake with a high gloss strip and front diffuser, as well as an M exterior rearview mirror and M rear spoiler that match the body color. The sporty interior strip and Alcantara roof line show a dynamic, stylish and luxurious look. The Thunder version also features a unique dark chrome front grille, carbon fiber exterior rearview mirror housing, side fender carbon fiber decoration, high-performance braking system, carbon fiber roof, independent rear spoiler, carbon fiber rear diffuser, etc., making it more sporty. How come you don't want to change the color to make a car that has such an outstanding design? Next, let's learn some information about the BMW 8 Series Wrap.
How much wrap do you need for a BMW 8 series ?
For full wrap of BMW series 8,it needs 59ft
For only roof of BMW series 8, it needs 10ft.
For only hood of BMW series 8, it needs 10ft.
For only Bumper of BMW series 8, it needs 10ft.
How much is it to wrap a BMW 8 Series?
Considering the potential wear and tear issues during the wrap process, we recommend purchasing a 59ft BMW 8 Series Wrap, and our website has recently launched a campaign to offer a 10% discount to every customer who comes to purchase. In other words, the car wrap originally priced at $580 would only cost $520 if you purchased it now, saving $60. This is a rare opportunity promotional event, if you want to buy the car wrap, now would be time.
How long do car wraps last?
Under normal circumstances, a BMW 8 Series Wrap has no problems after three years of use, and we also have a two-year warranty. If any quality problems occur within two years, we can find solutions. More than five hundred US dollars are used for three years, with an average of only 0.5 US dollars per day. After three years, you can change to another color, which is very suitable for car owners.
Do wraps damage paint?
Of course not!
From the perspective of process structure, the structure of the color changing film is divided into two major components: fabric and adhesive. Many high-quality brands use sliding pressure sensitive technology to suspend the adhesive. The principle of this adhesive technology is to use paint adsorption technology. The adhesive has low viscosity and can only be adsorbed on the paint surface. For unpainted surfaces, such as leather or log surfaces, it cannot be adhered for a long time, which also ensures that the color modification film will not cause any damage to the original paint surface when adsorbed on the vehicle body. Attention: For surfaces that have been repainted or touched up, if the film application process is not mature, the repainted or touched up parts may be stuck off while tearing off the color changing film.
Which colors are suitable for BMW 8 Series
Ravoony Liquid Metallic Dragon Blood Red Vinyl Car Wrap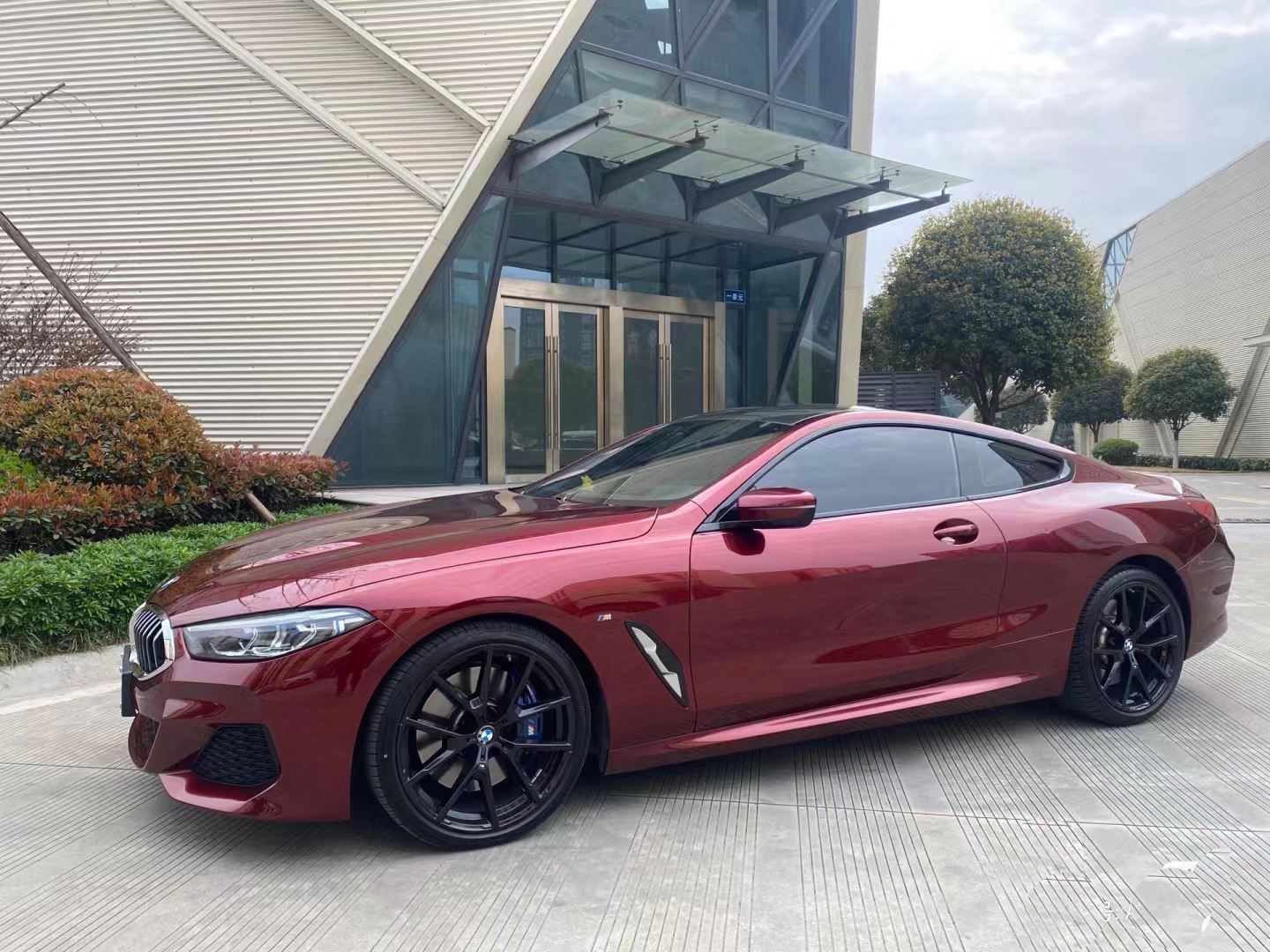 This is a bright red color that is liquid, metallic, and emits light. From different angles, it has a burst of blood flow, resembling a flowing metallic liquid and exuding a touch of agile red in the mysterious black. It is a color that suits men, women, and children alike, resembling both a punk girl with black and red hair and a gentleman in a suit tasting red wine. Liquid metal dragon blood wrap is not just the exclusive color for little sisters. This domineering dragon blood red symbolizes flowing dragon blood, paired with the unique texture of the liquid metal series. It can be said that dragon blood red is one of the textured red car wraps
Ravoony Blue Sky Car Vinyl Wrap

Some people say that blue represents melancholy, but Blue Sky Car Vinyl Wrap wants to break this stereotype. We always hope to have a blue sky above us, and the blue tone of the sky is personalized and bright, giving people a positive and cheerful feeling like the vastness of the sky. With a touch of fresh color scheme, The blue car wrap is simple and natural, transparent, and less aggressive compared to Pure Metal Tiffany Blue Car Wrap, The smooth film surface with crystal texture makes the car body very smooth, soft, fresh, and eye-catching. Changing into such a color for a beloved car is undoubtedly a visual and even physical pleasure.
The Blue Sky Car Vinyl Wrap is as clean and pure as a blue sky without any stains, with a fresh and full blue color, as if standing under a clear sky for thousands of miles. Coupled with pure and bright blue tones, it outlines the delicate lines of the entire car body, bringing a dynamic and personalized style, awakening the infinite vitality of spring. The blue sky and cool autumn breeze, driving your own blue car will be another beautiful day
Ravoony BMW Brooklyn Grey Vinyl Wrap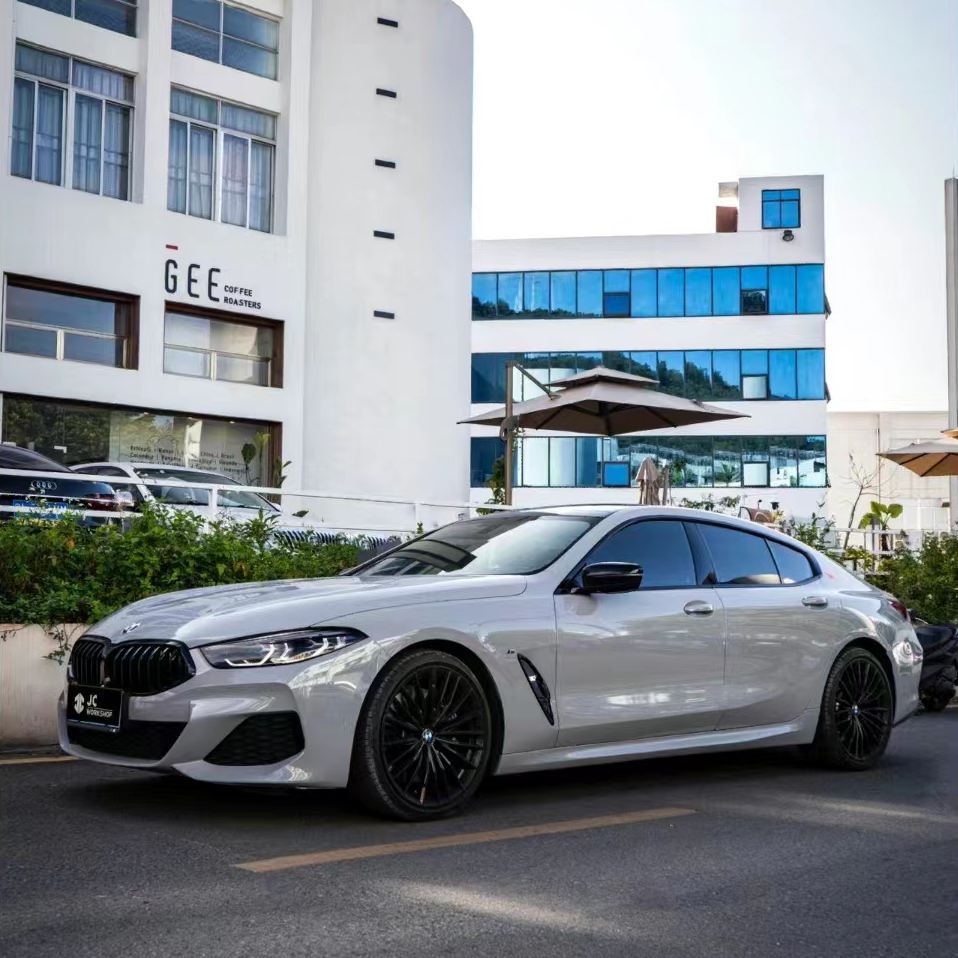 As one of the original colors of BMW, it is not without reason that it has always been popular among the public. Many BMW owners with white original paint also come to purchase the BMW brooklyn grey wrap, because it is really high-end.
Grey is a low-key and versatile color.Take a closer look at this original car paint grey car wrap. It is a bit like the cement gray in our impression, but it is obviously more delicate. It can also show different light and shade effects under different lights to highlight the layering and movement of the body lines.
0 users like this.
Please enter your nickname.